Residential & Commercial Moving Company
Serving Northern Virginia, Washington DC and Maryland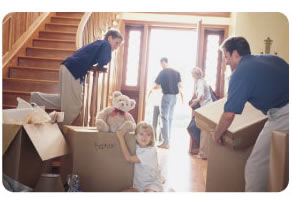 "I...appreciate your business ethic and professionalism."
Full service moving in Northern Virginia, Washington DC and Maryland is our specialty. Henderson's Moving Service is celebrating our 77th year of service to the Washington Metropolitan area. We offer moving and storage services in Northern VA, DC and MD region. We are proud of our company's continued success and attribute it to the long-term relationships we have established with our customers.
Our company was founded in 1927 by Roderick J. Henderson, Sr. Henderson was a restaurant owner in Rosslyn, Virginia with ice distribution services throughout the metropolitan area. After numerous requests to utilize his trucks to move colleagues and friends, Henderson's entrepreneurial drive and spirit led him to open Arlington, Virginia's (now) oldest moving company.
After 77 years and tens of thousands of clients, Henderson's Moving Service has proven to be an integral part of the energetic environment of the Washington Metropolitan area.
Henderson's Moving Service believes in providing expert service to insure that you can trust your cherished belongings and/or valuable office equipment in our hands.
Operating as a family-owned company for the better part of a century, we have more than a reputation to uphold. Referrals and repeat customers are the cornerstone to our success. We continue to maintain the superior levels of staffing, flexibility, and customer service on which our company was founded. View an article extract on Henderson's Moving Services in The Washington Post Magazine October 29, 2000 issue.
Our business has had the honor of serving many high-profile organizations that have entrusted us over the years, including:
Department of the Army
Department of Defense
Embassy of Surinam
George Mason University
Government Dignitaries
Congressional Members
Numerous other private and public organizations
Henderson's employs full-time, insured and experienced individuals who have been trained to provide a safe and efficient move. Our company has secured and maintained contracts with numerous government agencies and corporate offices throughout the years due to our proficiency, as well as our courteous and reliable service and has gained a reputation to deliver.
Unlike many larger companies, that require weeks of lead time and minimum contracts for storing goods:
Henderson's offers flexibility to provide the service you desire on short notice
Henderson's offers small one and two man crews available for executing small moves or rearranging household furniture
Henderson's offers storage facilities for short and long term needs with prompt, easy retrieval of items when needed.
We also guarantee that the proper equipment be readily available on every move. Our company takes every precaution necessary to protect our customers' belongings as well as the property we are moving them into and out of. We only use state of the art equipment and tools that provide the safest damage proof service.
Whatever services our clients need, we are ready and willing to deliver.
Our service area for full service moving and storage includes:
Northern Virginia
Washington DC
Maryland
If you are interested in attaining additional information on our moving services or storage facilities, please do not hesitate to contact us by phone at 703 671 0134.