MOVING SERVICES FOR HOME & OFFICE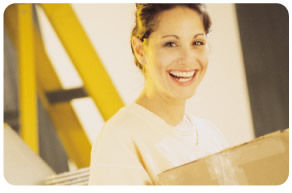 "I just wanted to say how impressed I was with the services I received rom your company..."
We are celebrating our 77th year of service. Most likely we have performed a service at your facility or you have seen our trucks in the area.
At Henderson's Moving Services, we believe in providing many levels to assure that you can entrust your cherished belongings and valued equipment in our hands. Being a family owned company that has served the DC Metropolitan area for over seventy five years, we have more than a reputation to uphold. We are proud to maintain the superior levels of staffing, flexibility, and customer service on which our company was founded.
We employ experienced individuals who have had training to provide a safe and efficient move. Having contracts with several government offices, we have proven ourselves as a proficient, courteous, and reliable company.
Unlike many larger companies, we have the flexibility to provide the service you desire on short notice. We also guarantee that the proper equipment will be available on every move. Henderson's takes every precaution necessary to not only protect our customer's belongings but the property we are moving them in and out of as well. We only use non marking dollies and have masonite and corner protectors available. Every move is insured.
If you are interested in our services, or if you would like any additional information, please don't hesitate to contact us.
LOCAL MOVING
Here at Henderson's we know that moving can be a very exciting and stressful time.
We are here to take the stress out of your moving experience. From the beginning you will notice a difference when dealing with Henderson's. When you call you will speak with a live person not a machine routing your call. We are here to answer any questions you may have. We always recommend having an on site estimate. There is no charge or obligation for the estimate and it will help prevent any surprises that may occur on moving day. Every move is different and one tight corner or stair well can make a difference. Our estimators know what to look for and have the moving experience to provide you with the proper size crew and equipment needed. On moving day your crew will arrive on time and equipped to handle your specific move.
LONG DISTANCE MOVING
We treat our long distance moving with the same care and dedication as our local moving.
We are not an agent nor are we affiliated with any other moving companies. The moving crew that picks up your belongings is the same crew that will deliver them to you. Your shipment does not switch hands and companies like some larger van lines. We feel this is the only way to maintain quality control and provide you with peace of mind. Henderson's Moving Service is responsible for your shipment - no one else. We will provide you with the Pick up and Delivery date of your shipment - not a range of possible days to expect your belongings. Contact can be made with the driver throughout your move. You don't have to worry where your items are or when they are going to be delivered.
If you have ever moved long distance in the past you will realize what a difference Henderson's can make.
ESTIMATES
We are happy to discuss your move over the phone and can then usually give you a reasonably accurate estimate. If you prefer email, please click here.
For larger houses and any moves that require packing we usually recommend an in house estimate. We will have an estimator come to your house at a time that is convenient to you. There is no charge or obligation for the in-house estimate.
Before the estimator arrives it is usually best to determine how much packing and what items you would to be moved. Don't forget about attics, basements, sheds and the garage.
Henderson's can do as much or as little of the move and preparation as you would like. The more accurate description of what you would like done the more accurate our moving estimates will be.
PIANO MOVING
Henderson's is one of the oldest piano movers in the Washington DC area. We have the training and equipment to safely move and store your piano. Please contact us for rates and availability.